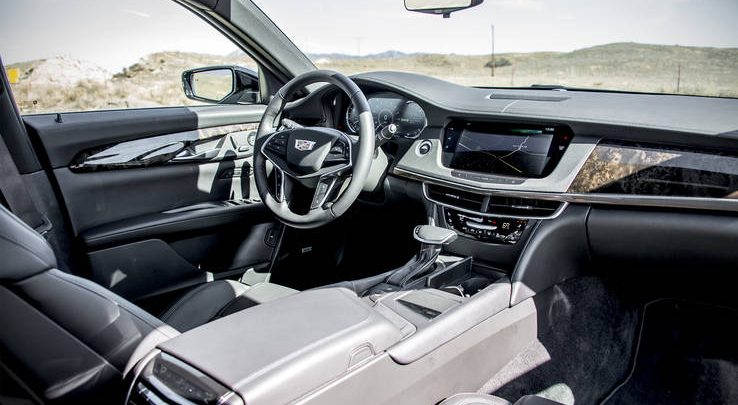 The Cadillac CT6 Sedan is a well- designed executive vehicle that oozes class. It is embroidered with deluxe features. Beginning from the desirable Cadillac logo on the front frame to its lush furnishing on the interior, the repute of the Cadillac is clearly noticeable. This vehicle adds another level of class to your range when added. The latest Cadillac CT6 has a relatively steady MRS Price of just $53,495 and it offers customers many added features with an upgrade to any of its optional range. The CT6 is flashy and helps you stand out in outings. The MSR price of the 2.0L turbo CT6 is given as $53,495 while the luxury model of the 2.0Turbo goes for a higher MSR price of $58,395.
There are a lot of standard features in this gorgeous beauty. To add to its exquisite touch, it has a streamlined 10.2 inches touchscreen display in front and comes with a selection of Cadillac cue infotainment selections like the text messaging app that uses voice recognition commands as well as many other google and apple applications. An additional in built functionality is the ability to automatically recharge pre-selected mobile devices even while handling the vehicle.
Features
There are 3 main features buyers look for in selecting a model car; the performance, the safety features and for a luxury car, the entertainment features. For the more luxurious platinum version of the CT6 Sedan, there is the added ergonomic advantage of its seating having 20 different adjustable points.
Performance Features
The Cadillac CT6 Sedan comes with a range of inventive upgrades. The customer can use the improved night vision system: a tech that uses heat energy to detect and show the presence of living things (mainly humans and animal) using their heat system so drivers can maneuver in dim light. There is also the all-wheel drive option and finally there are computerized technologies that provide alternate suspension packages that can be chosen based on road use at any given time.
Safety Features
Like its range of performance features, it boasts a range of tech upgrades for its safety features. There is a driver assist suite that gives warning on pedestrians from a safe distance and can even automatically brake the car to prevent accidents. There is a rear camera mirror which relays the information sent to it by the HD rear camera and it is quite easy to turn this feature on or off to enable easy handling by the driver.
Entertainment Feature
There is a superb infotainment package in the Cadillac CT6. It comes with a screen for back seat passengers which has video play back. This screen (built into the front seat) can tip at an angle to increase viewing options.
Looking at the competitors
There are 2 Cadillac sedans which are in direct competition with the sedan CT6. These are the sedan CTS and the sedan XTS. Then there is the competition with other luxury cars like the BMW 5 series, the 2.0 Turbo premium 2016 Audi A6 sedan front Trak which though cheaper, offer lesser added functionality.
Fuel Efficacy
Packed with intrinsic engineering and exquisite designing, this luxury beaut has a very powerful twin turbo 3.0L V-6 engine that gives 404hp and a V-6 turbocharged engine that has start and stop advanced tech.
Gains and Draw-backs
There are numerous distinct qualities of the Cadillac CT6 and a range of additional upgradables. Despite it being a little more expensive, it provides improved ergonomic options as it is easily and highly customizable alongside its range of infotainment options.
The Cadillac CTS V Sedan
The main characteristic of the CTS V Sedan is the speed. The V Cadillac is very fast and the 2016 model is not any different. It is a 4- door, 5 passenger high functioning medium size range sedan influxes luxury and sports car capacities. Its MSR price has a base of $83,995.
Performance Specifications
The 2016 model of the CTS-V Sedan is powered as a 6.2L rear-wheel drive with a supercharged V8 engine in the hood. The same engine is seen in the Chevrolet corvette ZO6.
It is armed with a 640 hp engine that yields 630 pound-feet of torque and is linked with an 8- speed auto transmission.  Its amazing speed sees the 2016 CTS-V reach 60 miles per hour from 0 in just 4.1 seconds and it can keep up to a maximum speed of 200 miles per hour.
Safety features
The CTS-V has superb traction control, anti-lock brakes and stability control. It comes complete with front seat airbags, front passenger knee airbags, full length curtain airbags and rear side airbags.
There are also parking aids, front and rear vision cameras and front and rear parking sensors. The 2016 CTS-V sedan has forward collision detection and alert system, blind- spot monitoring, rear cross traffic alert system and lane departure detection and control.
It has a top ranking 5- star overall rating in government crash testing for frontal crash, side crash and rollover reliability screening. The CTS-V also received good ratings and reviews from the insurance institute for highway safety based on results of its reliability test for overlap frontal offset and side impact crash conditions.
Entertainment Features
The 2016 CTS-V sedan has the standard Cadillac features. It has the CUE touchscreen which allows for control and use of the Cadillac Sedan's navigation system (GPS), audio system (radio and wireless transmitter), Onstar system, USB for phone connectivity amongst other features.
Fuel Efficacy
The fuel efficiency numbers for the 2016 CTS-V sedan are 14 miles per gallon on city roads and 21 miles per gallon on express roads. The average of 17 miles per gallon is an improvement on that of its predecessor CTS-V model which had an average number of 14 miles per gallon. The capacity of the 2016 sedan fuel tank is about 19 gallons.
Gains and Draw-backs
Competing against other high performance mid-size sedans like the 2016 Models of the Audi RS7, BMW M5, Jaguar XF S and the Mercedes-Benz AMG E63, the 2016  CTS – V sedan throws up some interesting pros and cons.  It has a higher horsepower compared to its challengers and this stands as a huge advantage of the Cadillac.
Despite the BMW M5 2016 model having BMW's manual transmission, it still trails with a 560 horsepower engine. Likewise the Audi RS7 2016 Model. The 2016 Mercedes Benz AMG E63 has a slightly higher 577 hp engine compared to the previous 2 but still pales against the Cadillac. Coming a further distance behind is the Jaguar XF S with a low 380 horsepower.
More draw-backs of the CTS-V sedan is that despite not having manual transmission, it also doesn't have a 4- wheel drive which both the Mercedes Benz AMG E63 and the Audi RS7 and finally its CUE system has been reported to be slow in command.