What You Need To Know About Buying Your Next Mattress
Buying a mattress doesn't need to be difficult. Read our guide to find out important tips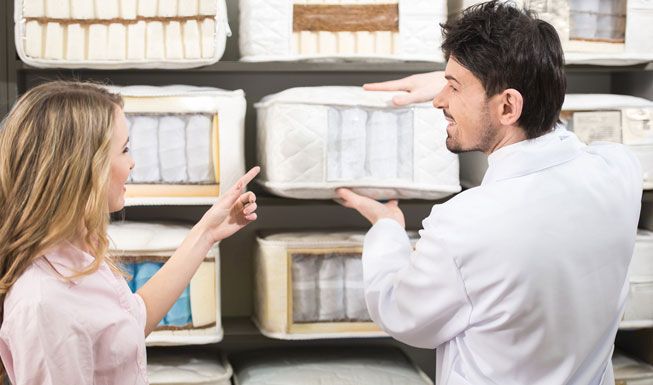 Selecting the perfect mattress can be challenging.  The right mattress is crucial to getting a good nights sleep. The wrong mattress can wreak havoc on not only your sleep, but also your back.  Unfortunately, you can't take a mattress out on a test drive like you can do with a car.  You can lay on it, roll over a few times, and even bounce around a bit at the store — but when it comes down to it, you can't try out new mattresses until you take one home.
Like your favorite pair of jeans or your comfy recliner, a bed mattress can wear out and must be replaced.  A good time to know when you need to replace your mattress is when you can't get a good night's rest or you wake up feeling achy because your mattress no longer properly supports your body.
Your bed mattress is a long-term investment, especially because they usually have a life of about seven to ten years.  Picking the perfect mattress for your body is vital for a good night sleep and for your health.
With so many brands and mattress types on the market, how do you know which mattress is right for your body? Here's some information that compares the different types of information to help you select the best mattress to suit your needs.
Mattress Sizes
You will first need to decide what size mattress you will need.  Mattresses come in five sizes and choosing one depends on how much space you need to sleep.  Here are the five mattress size options:
King size mattress which is approximately 76 X 80 inches long
California king is a little longer than a king size mattress at approximately 72 X 84 inches long.
queen size mattress is approximately 60 X 80 inches
Full or double mattress is about 53 X 75 inches long
Twin size mattress is 38 X 75 inches long.
Mattress Types
There are 5 mattress types.
Innerspring
Recommended for people who prefer sleeping on their sides and sleepers who have no issues with back pain.
Price Range: $750-$2,900
Pros: affordable, easy to change positions because they offer more bounce
Cons: You can easily feel your partner's every move
Memory Foam
This is the most popular and best-selling mattress.  Recommended for people who sleep on their backs and suffer from different ailments such as arthritis, chronic back pain, and joint pain.
Price Range: $650-$2,700
Pros: conforms to the body, extremely comfortable, does not hold body heat, improves sleep
Cons: hard to move around, have a chemical smell in which it has to be aired out within the first 24 to 48 hours before use
Latex Foam Mattress
Recommended for both side and back sleepers.  Much springier than memory foam.
Price Range: $550-$3000
Pros: do not hold much heat, eco-friendly
Cons: very expensive
Adjustable Air Mattress
Recommended for both side and back sleepers.  Come with foam or gel tops for maximum comfort.
Price Range: $700-$3000
Pros: adjustable controls to control the firmness of mattress, flexible, durable
Cons: very expensive
Natural or Organic Mattress
Recommended for both side and back sleepers
Price Range: $600-$20,000+
Pros: no chemical smells, environment friendly
Cons: very expensive, some may not be 100% organic so it is best to check for authenticity
Comfort Level
You can choose your bed mattress by comfort level.  You can choose from plush, firm, contoured, personalized or pillow top mattress.
Firm mattress is harder on surface than other mattresses and feel firm rather than soft.
Plush mattress is softer than a firm mattress but softer than a pillow top mattress.  They are still considered to be soft and comfortable.
Pillow top mattress provide a superb level of comfort and supports every move of your body.
Contoured mattress conforms to your body type and is soft where you need it and firm where you need it.
Personalized mattresses are created for unique body types.
Body Types
Using size, type, and comfort, can help when selecting a mattress for your unique body type.  When choosing a mattress for your body type, choose one that is comfortable and suitable for you.
If you are a heavy person, choose a firm mattress which can help support the heavier parts of your body and keep it from sagging too deeply into the mattress.  Heavier people who sleep alone should choose a full, queen, or king size bed.  Also, a firmer mattress will help support your spine and keep it in alignment.
If you are a lighter weight person, you can choose softer mattresses whereas average weight people will have to choose mattresses with average softness and thickness (i.e. plush or pillow top mattress).  If you are a lightweight person who sleeps alone, you can choose a full or queen size bed.  You can select a twin mattress for children and teenagers who are single sleepers.
One Last Thought
Choosing a mattress isn't an easy task, especially if you have no idea on how to choose the right mattress that is suitable to fit your needs.  When going shopping for a mattress, ask the store clerk for assistance and ask any questions you have.  It is perfectly okay to sit, bounce on, and lie on the mattress to test it out.
It is recommended that you test the mattress for at least 15 minutes.  During this time, if you feel pain at your heaviest areas such as your shoulders, upper arms, and waist area, the mattress is too firm for you.  You may want to consider a pillow top mattress instead. If you feel aches, numbness, or tingling sensations, the mattress is likely too soft for you and a memory foam mattress is not a good choice.