2017 Redesigned Lineup for Jeeps
If you're in the market for an all new Jeep, then look no further. We've got you covered...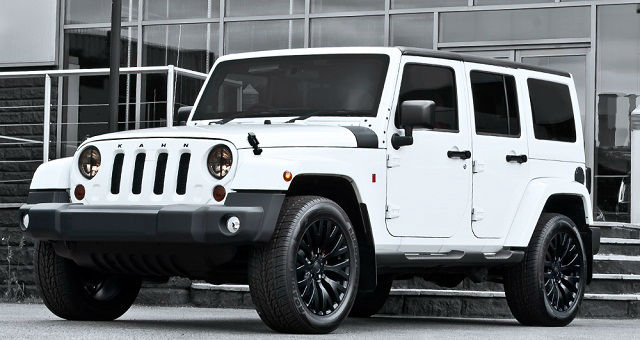 The jeep lineup for 2017 has seven different varieties of vehicles that you can choose from: There's the Grand Cherokee, the Cherokee, the Wrangler Unlimited, the Wrangler, the Renegade, the Patriot, and Compass. Whether you're a jeep lover, or you just want to learn about them, they have a price range and edition for everybody.
Cherokee and Grand Cherokee
Because of its status as the most expensive and largest jeep in the lineup, the body of the Cherokee was designed in a way that acknowledges its 75th anniversary which it celebrated in 2017. An upgraded 3.6L Pentastar V-6 engine is one of the new updates. Depending on your driving style, you will enjoy fuel efficiency with the 23/30 MPG city and highway range.
According to jeep, the Cherokee and the Grand Cherokee will offer you a luxurious sedan experience which can also be taken off-road. The 75th anniversary edition of the Grand Cherokee begins at an MSRP of about about $35,000. Two and four-wheel drives are some of the options available. It also has Selec-Terrain Traction Management System, a towing capacity of 7,400 lb, and Tow hooks.
However, people who'll love to have any of the jeep SUV's but are not necessarily interested in the special features that come with the Grand version, can acquire basically the same car, if they get the Cherokee, for about $24,000.
Wrangler and Wrangler Unlimited
These two Jeeps have had the same classic look since 1941, so this is also the 75th anniversary of their production. Though it has its advantages and disadvantages, the Wrangler has enjoyed a reputation as an off-roading vehicle since the advent of cars in America. The earliest editions of this car were as off-road as advertised, but where not very comfortable for driving on highways.
Over the years, Jeep made efforts to address these issues, and from all indications, they appeared to have made some progress. For instance, although the 2017 Wrangler has managed to retain its off-road features which includes side rock sails, steel bumpers that are winch-ready, the Rock-Track 4*4 system, and skid plates, some creature comforts have also been added, and they include, an audio system with nine speakers and a subwoofer for every weather, heated front seats with leather trimmings, a U-Connect Voice command, as well as an interior that is more decked out than usual.
Just like the Cherokee and Grand Cherokee, the Wrangler Unlimited is more expensive, with a starting price of $27,695, compared to the regular Wrangler, which goes for $23,895. Considering the fact that they have existed for 75 years, every Jeep Wrangler can be said to have proven itself. You have to decide how much you're willing to pay for the extra features.
Renegade
The 2017 Jeep Renegade does not have the off-road features possessed by the Wrangler or Cherokee. It is quite smaller, and doesn't have their power or towing capacity. It is also cheaper, with its MSRP being $17,995 compared to the others.
When designing the Renegade, Jeep paid more attention to the interior. This produced wonderful results as they were celebrated as one of "Ward's Top Ten Vehicle Interiors in 2016". These achievements are noticeable in this year's design, with an interior that is highly-configurable helping you make the most of passenger or cargo space. If you want to feel the breeze on your face, then you should go with the optional dual-panel, with removable and lockable sunroof.
Regardless of the fact that it looks a bit like the other jeep offerings, this particular subcompact crossover, was ranked best amongst its class with regards to 4*4 capability. Both systems provide a smooth transition between two and four-wheel drive.
Compass
The 2017 Jeep Compass happens to be another member of the subcompact crossover class. You can have up to 20-23 MPG while driving in the city, while you can get 26-30 MPG if you're on the highway. It is a five sitter, with a four-cylinder engine, and it has front and four-wheel drive. You can get the lower Compass for $19,695. Its off-road capability, stylish six-speed automatic transmission, and its heated leather front seats are some of its advantages. The fact that its 2.0L engine is not so strong is its biggest drawback.
Reviews from Cars.com: There were some complaints about the interior being loud when speeding on highways. This should not surprise you, as this is one of the drawbacks of getting the lower range. The compass is a good car for people who love small cars but still want to enjoy the beach without getting stuck.
Patriot
The 2017 Jeep Patriot can be regarded as the company's advent into the SUV market and it is not as expensive as the other vehicles like the Wrangler or Cherokee. The Patriot was launched in 2006 together with the Compass, so it is still relatively new. Its Freedom Drive II ensures that the Patriot can offer amazing off-road experience.
The interior is not as stylish as that of the Cherokee. However, considering the fact that it cost $17,695, the interior is quite okay if you don't mind a plain interior. It has standard satellite radio and Bluetooth, including a review camera that can be included as an add-on. The Patriot can offer 20-26 MPG, which is decent compared to the remaining 2017 Jeep lineup.
The truth is that, many people love Jeeps. Regardless of the complaints from some mechanics about the cost of repairing them, cars like Wrangler and Cherokee are about as American as you can get. The setbacks are not serious issues for Jeep lovers. This is definitely not a performance sports car. If you're looking for a car that can skip paved roads, you can't really do better than Jeep.