The Best Crossover Cars In The USA For 2020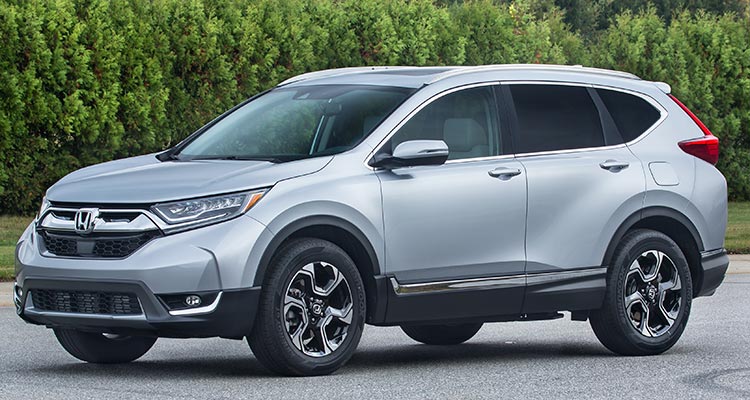 Lately, a lot of American drivers have been preferring crossover vehicles over SUVs and sedans. Crossovers have all of a sudden become very popular especially because of their body, form, and functionality. They offer many features similar to an SUV, but when it comes to size and gas mileage they are similar to a sedan. Many companies have created crossovers in an effort to meet the increasing demand.
This summary below will give you the best Crossover Cars for 2020.
2020 Honda CR-V
The Honda CR-V has remained its top position in the Crossover market. It has been completely revamped for 2020 with updated features from the prominent front grille, to the bold and fashionable design on the inside. The Honda CR-V even returned with more than sufficient rear legroom which was previously just adequate.
It provides drivers with a choice of four different trim levels.. The pioneer LX model does not have so many frills, and the less powerful engine might leave you unimpressed. The next level EX has a 7-inch touchscreen, a sunroof, a turbocharged engine and a power driver seat. If you love leather upholstery, quality audio, a power lift gate and driver seat memory settings, the EX-L is one sure bet.  With a standard navigation system, LED headlights, and automatic wipers, you can be sure to enjoy a great ride.
On all trim levels starting with the EX, the Honda sensing system is nothing but superior. It also comes with safety features such as pedestrian sensing, warning to avoid a forward collision, lane-maintaining assistance, and collision mitigation braking.
Apart from the LX, all trim levels come with the 1.5-liter turbocharged four-cylinder engine which is quite impressive. The CR-V has a cargo space of 75.8 Cubic feet which is rather respectable for its size of crossover, and as regards fuel economy ratings, the combined city and highway rating of 30 mpg would excite drivers. The Honda CR-V has an opening MSRP of $24,045 for the LX base model.
2020 Subaru Outback
The Subaru Outback with an EPA fuel economy rating of 22 to 28 miles per gallon put together has one of the best gas mileages among other midsize crossovers. It is a 5-seater and comes with a standard all-wheel drive and has a five-star score on government crash. The EyeSight system is now available in the Outback thanks to Subaru, and it gives the best when it comes to accident avoidance technology.
The Subaru Outback is one crossover that stands out when all others are listed alongside because it was the very first of them all. The 2020 Outback has met and surpassed expectations, and it still does with its generous interior space, more than 50% above the road and a lower roof to aid loading of equipment.
With 6 different trim levels, it won't be difficult getting exactly what you desire. Its primary level 2.5i has quality features such as 17-inch alloy wheels, hill descent control, a rear view camera and Starlink 6.2-inch touchscreen interface by Subaru. The 2.5i Premium which is the next level includes side mirrors that are heated, a power driver seat (8-way), Bluetooth text messaging connectivity and audio controls.
The 2.5i Limited is available for drivers who love everything about the 2.5i Premium but crave some extra details. Some of are features are: a blind-spot monitoring system, leather interior, Harman Kardon sound system (12 speakers), driver seat memory settings and more. The higher 3.6R Limited has a more efficient engine, and both the 2.5i and 3.6R Touring come can be upgraded to include the Driver-assist tech set.
That the Outback looks more like a wagon than a crossover is it's only supposed limitation; however, with all its other vintages, drivers don't mind at all. The opening price for the 2017 Subaru Outback is $25,645.
2020 Toyota Highlander
One of the mid-sized crossovers is the Toyota Highlander being an 8-seater with three rows. Though spacious enough for a large family, it is averagely sized and handling it isn't so easy. Most of its trims are standard with a V6 engine, an eight-speed auto-transmission and Toyota's collision avoidance system- the safety sense pack. The EPA fuel economy rating for the Toyota Highlander is 22-23 mpg and a rating of five-star in the government crash test.
This crossover is highly regarded because of its strong reputation as a reliable vehicle and its high resale value. For 2020, there have been noticeable updates to the exterior. The added SE trim level offers you more sporty style and functionality.
Its other trim levels start with the LE as it's base level which isn't impressive at all with its reduced functionality. The next level, the LE Plus has in addition to its V-6 power engine, a power lift gate, the 8-inch touchscreen of greater resolution, apps to connect smartphone as well as a zone automatic climate control. The XLE Plus offers you an advanced instrument panel, leather interior, Voice control otherwise called the Driver's Easy Speak which transmits voice to the vehicle's rear. It also has a navigation system.
Rear parking sensors and driver memory settings are additions to the Limited trim. The Limited Platinum includes a panoramic moonroof and a parking camera of a complete rotation. The 2017 Highlander opens for $30, 630.
2020 Acura MDX
You should consider a midsize luxury crossover if your budget isn't tight and can be adjusted. The Acura MDX would be a great selection being able to seat  seven  with its EPA of 23 mpg city/highway fuel economy, and five-star rating for government crash test. It is a top choice for families particularly because of its spacious interiors together with its accident avoidance tech (the Acura Watch).
The Acura MDX comes with a V6 engine as well as a superior all-wheel-drive system which assures you of an enjoyable tour. Other crossovers have its kind of acceleration and an update on its nine-speed auto-transmission.
The 2020model has a new hood on its outer, advanced front fenders and headlights. It is also the very first Acura model to acquire the all-new diamond pentagon grille. With its new inclusion of the Sports Hybrid option, it boasts a 3.0-liter V6 engine and a gas-electric powertrain.
There are three individually unique trim levels. The base package is standard and sufficiently equipped. It has an electronic parking brake, side mirrors (heated) and a power lift gate. The Technology package comes with 20-inch wheels, remote engine ignition,  automatic wipers, and quality navigation system. The excellent Advance package leaves an impression with its front and rear parking sensors, heated steering wheel and superior leather sports seats.
The MDX has an attractive opening of $44, 050. It undeniably has competition when it comes to luxury, but it's so many other features and advantages can't be resisted.