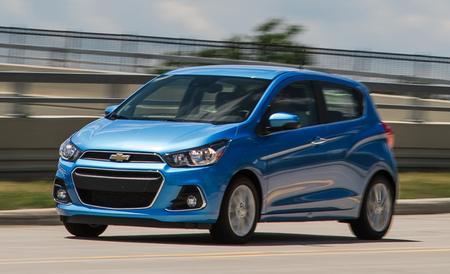 With a sporty re-design that's guaranteed to deliver the best driving experience, the new Chevrolet Spark model is a subcompact that promises to rival the performance of bigger automobiles.  The coupe's increased mileage per gallon, state of the art smartphone integration, and exceptional maneuverability has created a loyal fan base. The Spark comes in both manual and automatic transmission variants, 1LT and 2TL trim levels, and buyers can also choose from a myriad of breathtaking colors for the exterior.
The Basics
Despite churning out less than 100 horsepower, the Spark's 4-cylinder engine produces `adequate power required for most driving conditions.  The car comes with a standard 4-seat interior configuration and has 11.1 cubic feet of cargo space which can be increased to 29.2 cubic feet when the seats are folded.  With 10 airbags and a high strength safety cage design, the new Spark has been engineered for optimum safety of its occupants.  The remodeled 2020 Spark comes at a MSRP range of $12,660-$25,510.
Features
For an entry level automobile, the use of industry leading technology in the new Chevrolet Spark is one of its most significant selling points.  With built in Wi-Fi Hotspot, passangers can access their social media accounts, stream videos and listen to music using the car's high speed 4GLTE internet.  Apple and Android phones can also be connected with the car using the integrated Mylink with Bluetooth connectivity. Combined with a rear view camera and its compact design, the Spark is easy to park in small spaces around the city.
How It Compares
Compared with other cars in it class, the Chevy Spark is an average ride.  Though many of its competitors have more powerful engines, nicer interiors and are more reliable, the Chevy Spark has the best fuel economy in its class.  It also has top notch technology. If you are a city driver or college student looking for a fun ride, the Chevy Spark is a great choice.
Fuel Economy
In its class, the Chevy Spark's 4 cylinder engine's 30/41 city/highway miles per gallon is the best you can get. Also available is the all electric Spark EV which can get you as far as 82 miles when fully charged and 128/109 city/highway.
Pros And Cons
The Spark is affordable, has great fuel efficiency and is packed with the latest in automobile gadgetry, but it does have some shortcomings.  We don't know for sure how safe the car is compared to its competitors because its crash tests have not been reviewed.  Nevertheless, the higher trim levels are equipped with rear parking sensors.  The car also comes with a rear view camera and buyers can opt for a Driver Confidence Package which provides forward collision alerts and lane departure warnings .
According to an evaluation by J.D. Power Associates, the Spark is credited with one of the lowest predicted reliability scores  in its class, so if you need a car that will still be in good conditions for a long period, steer clear of the Spark.
The 2020 Spark is a coupe that's a fun ride and is affordable.  Check out the Spark at your local Chevrolet dealer and take the fun car for a test drive!