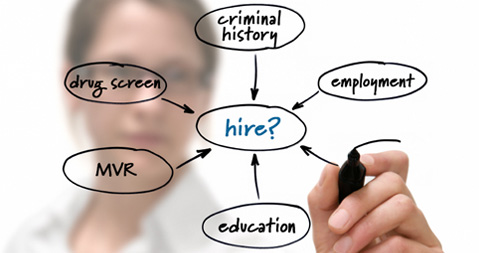 The Society of Human Resource Management has stated that, virtually half the resumes and job applications submitted across the United States contain a number of exaggerated facts, and even out-right lies at time.  If you offer a candidate a job based on just the content of their resume you might end up regretting it.  It is the responsibility of every HR manager or business owner to hire the best candidates, which is why a background check is important.
If you don't perform an adequate background check, your company might end up suffering for it.  Imagine the nightmare your company will go through if you hire a sex offender who hurts someone or if you hire an employee with a history of embezzlement to handle your payroll.  These hiring nightmares can cause civil suits.
It is important for you to carry out legal, pre-employment background checks as part of you successful hiring procedure.  Being able to choose the appropriate employment background check is important.  Below are some tips that can help.
Companies That Specialize In Background Checks
Hiring companies have two options for running employment background checks.
Use websites that let you conduct your own research for the background check.
Hire a background check firm to help your company handle the whole process.
It might seem exciting to do the background check on your own, but you will miss all the benefits offered by a professional company.  Below are some of the benefits:
The people carrying out the background check are professionals.  They can easily find things that you might overlook. Their services are also very efficient.
The Fair Credit Reporting Act (FCRA), the Americans with Disabilities Act (ADA), the Equal Employment Opportunity Commission (EEOC), and other federal and state regulations need to be followed.  The advantage of using background check companies is that they always have up to date information about these regulations so they can easily help your company follow them.
A lot of the information you'll obtain from these DIY background check websites are wrong.  Background check firms can get you accurate and comprehensive information in the fastest possible time.
The timing of the screening process, is one factor that you must consider before you do a background check. Legal experts believe that it is best for the employer to wait until after a job offer is made.  If you hire experts to do the check, you won't have to worry about these issues.
How To Pick The Right Expert To Hire
Now that you are aware of the importance of hiring background check professionals, we can now provide you with guidelines on how to get the best background provider for your company.  Below are some things you need to consider before choosing a provider.
Type Of Checks Conducted
Employment background check companies provide different types of services depending on the type of check that is needed.  A good background provider must be able to provide criminal background checks, drug testing, employment and education checks, driving records, credit records, as well as litigation records.
Reputation
Take out time to do a background check on the company you use to perform the background checks.  It is easy to discover how passionate a company is about its work by checking out how well established they are in that industry.  A great background check company should have a reputation for excellence within that industry.
Compliance
The laws that regulate employment screening are countless and they are always changing.  In addition to complying with the Fair Credit Reporting Act FCRA, they have to also adhere to the laws of both federal and local Fair Chance Act, which means background checking companies must be up to date.  Your background providers should be up to date with the changing regulations to protect your employees and avoid lawsuits.
Hiring Volume
Make sure the company you chose is one that is capable of keeping up with your hiring volume.  The provider must be able to run hundreds of checks without compromising their accuracy or turnaround time.
Service Area and Location
There are background checking services that are constrained by their location or service area.  The service area should be taken into consideration when carrying out large scale or international background checks.
Popular Background Check Firms in the Industry
We've carried out research and analysis on numerous background check providers in the country to ensure that you find the best providers.  Because of the ever-changing legislation's, make sure you get a firm that is a member of the National Association of Professional Background Screeners.  Here are some of the well-known background check firms in the industry:
GoodHire
AccurateNow
Instant Checkmate
HireRight
Intelius
eNannSource (general household employees and childcare providers)
HireRight, Intelius and GoodHire, are the recommended ones on the list.  This recommendation is based on  factors like range of services, price, credentials, type of report, and categories of check performed.
Equal Employment Opportunity Commission (EEOC)
The rules of Equal Employment Opportunity Commission (EEOC), provide that the following factors must be considered before an employer can deny a person a position because of information obtained from a background check.
Type of position applied for
The length of conviction time or completed sentence
Nature and gravity of the offence
As can be seen above, an employer cannot just withdraw an offer unless there is a valid reason.  By choosing the appropriate background check providers, employers are better equipped to make the right decision.