Have You Seen These Waterproof Car Covers?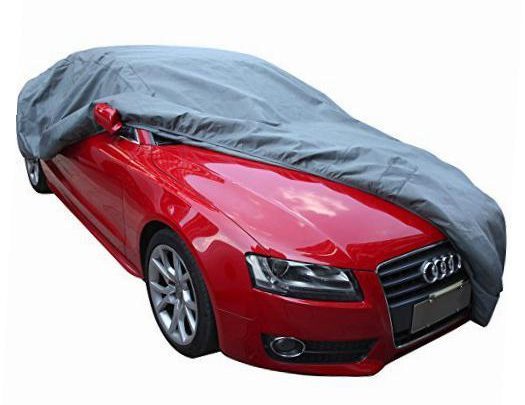 When there is inclement weather, you need to find a shelter for your car.  Most people have a garage to protect their car, but if you don't then a weatherproof car cover is a great option to keep your car safe.  Weatherproof car covers, provide cars with security. However, not all brands are effective.  You need to know which brand to buy.
Below are some weather proof car covers you should consider.
Leader Accessories Xtreme Guard 5 Layer Car Cover
The leader accessories xtreme guard 5 layer car cover has a dual function of being breathable and weatherproof.  Also, this cover is available in almost all car sizes.  It protects your car from UV rays, dust, snow, animal droppings, rain, sleet, and dust.  It will basically protect your car from all of the elements.
The cover also includes 100% weatherproof ultrasonic seams.  These seams prevent things from getting through, because of how tight they are sealed.  The manufacturer also provides the consumer with a two year guarantee, which protects a buyers investment.
There are a lot of Impressive reviews for this car cover with a lot of users remarking how heavy duty the brand is. No doubt, this car cover is one of the best choices on the market.
Classic Accessories OverDrive PolyPro III Heavy Duty Car Cover
This Car cover is typically made to fit sedans, which makes it not as universal of a car cover.  One fantastic feature about it is; it is design friendly. It has a zippered area around the driver's door which makes it easy for the driver to access the door.  Its design also allows the car's antennae to poke through without being bent or lowered.
It has non-scratch grommets which are entirely tied.  The corners which have the elasticity to fit the car provides for some customization.  It also comes with a storage bag.
It has three layers of PolyPro material in its makeup; an impressive technology that is suitable for weatherproofing and provides a little weight and thickness.  You should keep in mind that as fanciful as the zipper and the antennae opening are, they create a chance for inclement conditions or water to get in.
Most of the feedback is positive; however, some of the users were not comfortable with the fit.  Some of their cars were loosely covered instead.  It does come with a three-year warranty.
Leader Accessories Basic Guard 3 Layer Car Cover
Although this cover doesn't provide a custom fit feature, they do have an assortment of sizes; the fit extends from a small car up to a pickup truck.  The tight fit simultaneously allows for tight cover and breath-ability.  This cover does not give any chances for inclement weather to get in.  It also features an elastic hem at the bottom to provide a tight fit.
This weatherproof car cover is notable for its price as it is significantly cheaper than the rest of the other brands on the market.  Another advantage is that it is made with an environmentally friendly and biodegradable material.
Although it comes with only a one year guarantee, the manufacturer concentrated more on creating an effective product that wouldn't make the guarantee as important.
Users commended that this cover has an awesome snug fit and a natural design that fits any vehicle with ease.
OxGord Signature Car Cover – 100% Water-Proof 5 Layer Car Cover
This weatherproof car cover does not have customized sizes. Despite this, it can fit many types of cars.
It was constructed with extra stretchy elastic hems also with drawstrings that make it fit perfectly like a glove. With five-layer thickness, OxGord Signature Car cover boasts of 100% weatherproofing. Its first three layers consist of spun bond polypropylene, the following layer consist of a microporous film and lastly a soft fleece layer.
The reinforced seams ensure breath-ability not compromising its protection feature.  Users have actually commended that the car cover is perfect protection and that it is affordable
Motor Trend CC-341+LOCK All Weather Proof Universal Fit Car Cover
The Motor Trend CC-341+LOCK All Weather Proof Universal Fit Car Cover is said to protect your car entirely from all inclement weather and bird droppings.  It even protects cars from the sap of a tree, which can damage your car.
It has breathable fabric that resists all weather condition.  You can use the secure lock that is provided with the car cover to keep the cover in place even in the event of strong winds.  Another major bonus is that it is heat-resistant.
This weather cover does not have the best user ratings; however, many users did note that the price is great for the heavy-duty cover.
If you can't put your car in a garage and need to guard your car during inclement weather, weatherproof car covers are the best way to go.  For example if you need to protect and preserve a classic car, then using  a weatherproof car cover is your best bet for keeping the elements.
While this list doesn't contain all the weatherproof covers on the market, it shows you some of the best.